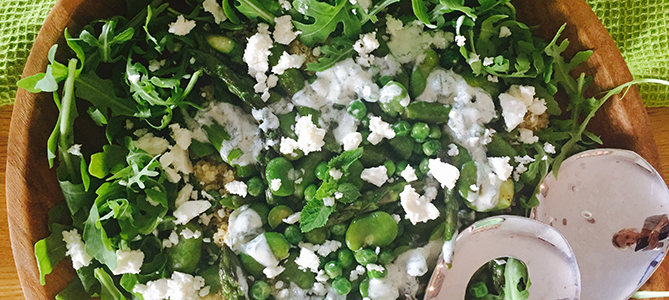 By Cheryl Thomson, CNM Natural Chef
On the CNM Natural Chef Diploma a lot of emphasis is placed on the benefits of eating seasonably. We may have become spoilt by the availability of a huge variety of fresh produce all year round, however fruit and veggies don't only taste better but are also better value for money and better for the planet when eaten in season. British asparagus has a very short season of just seven to eight weeks but is unbeatable for freshness and flavour, so read the labels when doing your food shopping and keep an eye out in your local grocer.
This salad is perfect for the early weeks of summer when peas and beans are sweet and delicious, the days are at their longest and yearnings for fresh and colourful meals are growing. Perfect as either a main meal or a side dish, this salad is a delight to the eye as well as to the taste buds. Serve it on a large platter to create a striking focus for a summer feast.
Print Recipe
Minted Pea, Asparagus and Broad Bean Salad with Quinoa
Ingredients
Salad
85

g

dry quinoa

cooked

65

g

peas

fresh

80

g

double podded broad beans

fresh

1

bunch

asparagus

trimmed into 2 inch lengths

1

knob

butter

1

tbsp

extra virgin olive oil

+ 1 tsp of extra virgin olive oil

1/2

lemon

squeezed for juice

8-10

mint

leaves, finely sliced, plus extra for garnish

50

g

sheep/goats milk feta cheese

crumbled

Sea salt and ground black pepper

to season

Few handfuls

Rocket Leaves

(optional)
Yoghurt Dressing
150

g

full fat natural live yoghurt

Large handful

mint leaves

finely chopped

1

tsp

honey

(or to taste)

1/2

lemon

squeezed for juice

1

tbsp

extra virgin olive oil
Instructions
Bring a small pot of water to the boil and add the peas. Simmer gently for 2 to 3 minutes until just tender and then drain. Place the peas in a bowl of cold water and set aside.

Melt a small knob of butter together with a teaspoon of extra-virgin olive oil in a frying pan over medium heat. When the butter has melted, add the asparagus and sauté for a few minutes until softened and just starting to colour.

Add the peas and broad beans and cook for another minute. Sprinkle with a pinch of sea salt to season before removing the pan from the heat.

Place the cooked quinoa in a large bowl and dress it with a tablespoon of olive oil and the juice of half a lemon.

Add the finely sliced mint leaves and the crumbled feta and stir through. Season with sea salt and black pepper to taste.

Pile the quinoa in the centre of a large serving platter and sprinkle the rocket leaves around the edges (if using).

Scatter the cooked vegetables over the quinoa and garnish with additional mint if desired.

To make the yoghurt dressing, place all of the ingredients in a small bowl and whisk to combine.

Drizzle the yoghurt dressing over the salad, or serve in individual portions on the side.
Notes
My preferred method for cooking quinoa is as follows: Start by rinsing the quinoa well, and preferably allow to soak in filtered water for about 15 minutes before cooking. I find it easiest to use a nut milk bag for this. Place the quinoa in a small pot and cover with an equal amount of water, for example ½ cup quinoa with ½ cup water. Bring to the boil and then allow to simmer gently, uncovered for 10 minutes. Cover the pot with a lid and remove from the heat. Allow to stand until all the excess water has been absorbed by the quinoa. This should take another 10 to 15 minutes but if time allows you can leave it until it's completely cooled. Once separated with a fork the grains should be light and soft, while still retaining a slight bite.
Broad beans can be eaten complete with their grey coloured skins but they are much nicer double podded to reveal the bright green bean inside. To do this, first remove the beans from their pods. Bring a small pot of water to the boil and add the beans. Simmer gently for approximately 2 to 3 minutes and then drain. Place the beans into a bowl of cold water. Pop the bright green beans out of their leathery cases by squeezing gently.
For more information on CNM's Natural Chef Diploma course please click here.