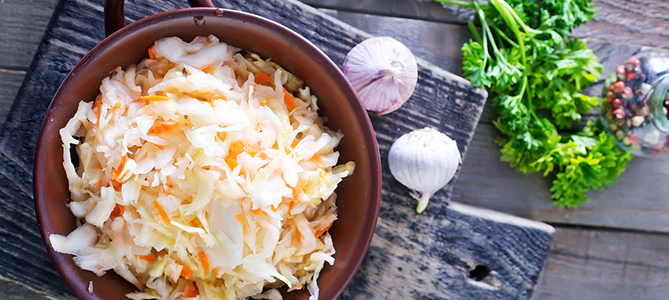 Kimchi is a traditional Korean fermented dish with spices, which tastes great and in Korea is served with almost every meal! Along with being a digestive aid, it supports a healthy microbiome and immunity as it possesses anti-bacterial, anti-cancer properties and protects against free radical damage.
Kimchi Recipe
Ingredients
800

g

cabbage, thinly sliced

(napa or white)

¼

cup

sea salt

1.5

litre

filtered water

1

tbsp

grated garlic cloves

1

tbsp

grated fresh ginger

¼

cup

Korean red pepper flakes

(or hot chilli flakes)

2

tsp

sugar

2

tbsp

fish sauce

200

g

Korean radish or daikon

(peeled and cut into matchsticks)

4

spring onions

(trimmed and cut into 1 inch pieces)

1

tbsp

salted brine shrimp

(optional)
Instructions
Quarter the cabbage, remove the stalks before chopping it into 4 cm pieces. Place in a bowl and sprinkle with salt, massaging it into the leaves

Cover the cabbage in filtered cold water, sit a plate on top to keep submerged and leave overnight (minimum of 12 hours)

Rinse the cabbage thoroughly under cold water, before leaving to drain in a colander for 30 mins

Meanwhile, mix the garlic, ginger, red pepper flakes, sugar, fish sauce and salted shrimp into a paste

Add the spring onions, daikon (or carrots), and dried cabbage in a large bowl and mix in the spice mix, using your hands (you may need to use gloves)

Transfer the cabbage mixture to a large airtight container, pressing it down so it is covered by its own juices, and leaves a gap at the top, before sealing

Leave the container out in room temperature for 3-5 days (depending on your taste preference), opening and letting out some gas daily and pressing down the vegetables in the liquid. Once the taste has developed, store in an airtight container in the fridge for up to 4 weeks (or longer – remember it will continue to develop it's taste and smell!).
Recipe by Jennifer Stenfelt, CNM Nutrition Graduate